Outdoor Living Designs in Milwaukee WI
Millennium Windows and Sunrooms LLC offers sunrooms, patio enclosures, screened rooms, replacement windows, decks, patio covers, pergolas and additions, in Southeastern Wisconsin. Call 262-364-7655 for more information!
Millennium Windows and Sunrooms, LLC is a BBB accredited company that has been offering a variety of sunrooms, window, and home improvement services in the Southeastern Milwaukee area since the year 2000. Our personalized, custom plans for each project and the expert craftsmanship to get the job done is what keeps our customers coming back for all of their home improvement needs time after time. When you call us, we'll set up a phone consultation to take the time to gather information about your vision for your home, your budget, any questions we may have and we'll figure out a plan that works best for you. Our no-interest finance plan makes it easier for you to be able to complete your dream home without having to wait. Call us today at
262-364-7655
and find out how we can help you, or fill out the form online to request an appointment.
We offer more options and choices than any other sunroom company in Southeastern Wisconsin.
We build fully insulated, year-round 4-season sunrooms, 3-season sunrooms, extended summer and porch conversions, patio conversions, and screen room conversions. Choose from conventional (stick built) and modular (prefab) options to design the perfect room for your home.
Replacement Windows & Doors
Decks, Patio Covers & Pergolas
Check out our LifeRoom Product!
LifeRoom let's you enjoy your backyard again for exercising, dining, entertaining and relaxing with family and friends… all at the touch of a button. LifeRoom's unique Smooth Glide motorized screens can be raised or lowered for privacy or to keep those pesky mosquitoes away. It gives you the freedom to enjoy a romantic outdoor meal… rain or shine.
LifeRoom Screens can be added to some existing conventional structures, or can be constructed as a new structure on your property! Unique features of this product include Mood Lighting, Soft Breeze Technology, Pollen/Allergy Protection and more!
Why Choose Millennium
Windows and Sunrooms?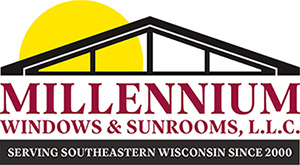 Millennium Windows and Sunrooms offers the largest selection of sunrooms and patio enclosures in Southwest WI. We offer a design consultation with the owner to survey your home, take measurements, interview the client, discuss budget and review samples to be most informed and able to make an educated decision. You will be provided with a quote and a 3D rendering of your project. Pictured to the left is a 4 track window, our most popular option for conventional and modular sunrooms. These windows can completely fold so all four panels are together (top or bottom) so you have a screened room feel.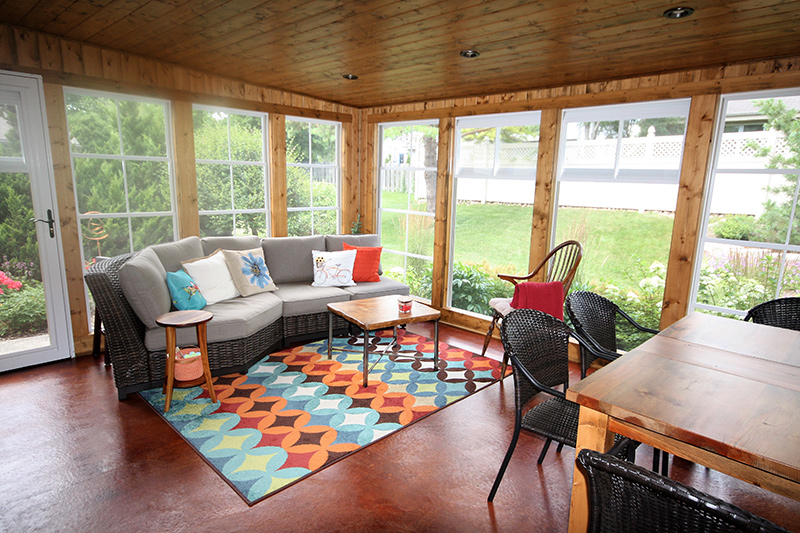 Based in Milwaukee, we are proud to be a BBB accredited business that has been impressing customers with our expert craftsmanship since 2000. Since the beginning, our top priorities have been integrity, quality of materials, and workmanship. These qualities have helped to build the foundation of a trusting relationship with each of our customers. We fully stand behind our work, and we think you will too.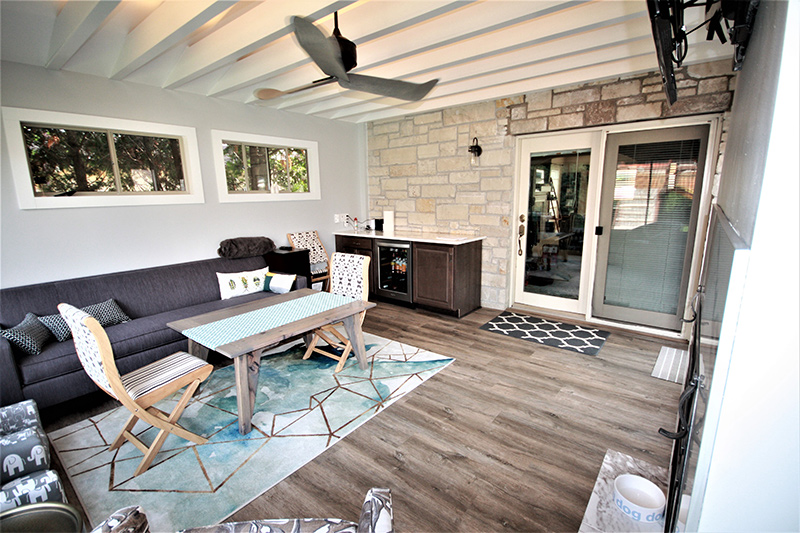 Expert Outdoor Living Solutions
Check out the rest of our website for a detailed description of our services!
How does the process work?
When you choose Millennium Windows and Sunrooms, you'll get a full personalized experience, without any pushy sales tactics.
Once you reach out to us, we'll schedule a no-pressure phone consultation to discuss all details and any questions we may have. We have found this phone consultation speeds up the process. During the meeting, we'll gather your information, your preferences and budget.
After the phone consultation we will create a 3D rendering (CAD) of what your finished project will look like, along with an estimate.
We offer more choices and variations in our project than any other company in Southeastern Wisconsin - so we're sure we'll be able to fulfill the vision you have!